Fireworks For The Soul
Posted on
November the 5th came round again and so me and a gaggle of friends, from 50 to 3, crammed in to a car and made our way to our local public display, waiting patiently in slow traffic and then joining the crowds shuffling along the pavement expectantly to our sparkly destination. There were hotdogs, fair ground rides and people of all ages who had dug out their winter scarves, hats and gloves for the very first time this year.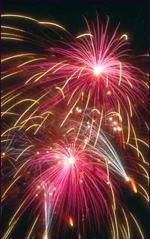 Having queued for the loo and the food, we were ready to be wowed and so when the fireworks began, we weren't disappointed ...
The first rockets exploded and I found myself with a huge smile on my face. The rockets whizzed, banged, flashed and sparkled. We cheered, clapped, oohed and ah'ed. And amongst it all, I reflected how much I still love fireworks, how they can carry me back to the excitement of being a child again and how they make me feel so ALIVE.
I've seen fireworks so many times in my life, yet they never fail to fill my head with light, spectacle and joy.
So what are YOUR fireworks, what do you have in your life to take you out of the ordinary, lift you and let you sizzle and soar??? For me of course it's fireworks, it's dancing to 80s hits with friends, it's cooking for loved ones, cuddling a purring cat and so many more fab things ... All pleasures to treasure, all guaranteed to help me sparkle and shine.
It can be a favourite book, an old film watched on a Saturday afternoon ... seconds, hours or days of time set aside to give me space, inspiration, comfort and joy.
All deliberate acts of kindness to myself. Because let's face it, we can be the hardest on ourselves, not always deliberately take care of ourselves and find ourselves falling into routines where work, family, etc, etc becomes all consuming and rest and play for ourselves may or may not get factored in.
So stop and think about giving priority to your rest and play - for the psychological and emotional benefits to you and so, it follows, in turn to those around you, as you then shine brighter. Just think about what opportunities you can create for pause and for play - the fireworks for your soul - what you will do, for you, to make those moments, hours and days of comfort and joy?
For me - a few weeks ago, I was getting caught up in all the things I had to do, getting worried and overwhelmed, so I sat down and created opportunities for my fireworks for the soul ... So for starters, this week sees me going to a gorgeous country hotel for afternoon tea and champagne with a loved friend - giving me my 'fireworks' and giving her a treat and a break too. I'm enjoying the thought of it already :-). And some how, the other commitments are met, the work gets done AND I get the 'fireworks'.
So it's time to find YOUR fireworks ... enjoy the planning, enjoy the doing and I look forward to sharing the sparkle with you...
With sparkles and stars.
Sandra
Founder - Peachey Days