The Rewards of Entering Awards...
Posted on
Tomorrow (Friday 9 May) is the last day for nominations for the Women Inspiring Women Awards sponsored by Damsels in Success. It's not too late to put forward an amazing woman you know who has made a difference, and that amazing woman can even be YOU!!!
How do you feel about that? At times like these, when client's self confidence 'stuff' comes up, I always quote this little saying – 'if you want to play in the orchestra you have to blow your own trumpet' – it's so true and is something taught to me by business coach and mentor Laura Morris – founder of 2 successful businesses and winner of a number prestigious awards herself... Here is what she has to say on the subject:
"Entering business awards? Are you too scared?
Back in 2009 I had recently set up my new business Rentabuggy. This was the first proper business I had set up and I was still at the very early stages of finding my feet. Six months later I unfortunately found myself a single mum with my daughter and my confidence in myself and the business was at an all time low.

One night I was sat in pizza hut with my daughter (who was about 3 at the time) and unsure what to do I rang my mum and told her my thoughts and asked her what she thought I should do. I really wanted her to say that she knew I could carry on and build the business but because she wanted the best for me she said she thought I should find a full time job and shut the business down. As I was on the phone to my mum my phone was beeping me to tell me there was another call trying to get through. After the call I listened to my voicemail and it was from BT. I instantly thought they were trying to sell me something but as I listened deeper the voice at the end of the phone was telling me I had entered into a business competition with BT and I was a 1 in 5 finalist and I could potentially win £10,000! To say I was shocked was an understatement as I couldn't even remember entering the competition!

I was told I needed to come to London the following week and pitch to a board of people. I was awash with excitement and nervousness but I knew I couldn't miss the opportunity.

I went to London the following week and I would love to tell you I won but I didn't BUT what I did learn was that I could achieve something if I put my mind to it and I knew then that I shouldn't shut my business down. Also, yes I didn't win but I got some great nationally press from it and Rentabuggy started to grow.

I went on to enter many awards where I have won, been shortlisted and even a finalist which in turn got the business mentioned in national papers, local publications and the radio.

Many of us find it hard to enter awards as we feel that we are blowing our own trumpet but isn't it time YOU were recognised for all the hard work you have done?"
Do you recognise some of what Laura went through before she got that call??? And look at the results - now she teaches her clients in turn that entering awards is an incredibly easy and effective way of getting the recognition, publicity and exposure that you and your business deserve. The press and media generally LOVE awards and winners and even the fact that you have been nominated should always be celebrated. And if the vote of confidence comes from your self – that really is the BEST place to start!
And with its second annual Award ceremony – 'Women Inspiring Women', Damsels in Success is offering you 9 categories / opportunities to get yourself seen and rewarded. What have you got to lose??? Still nervous...??? Then get a friend or colleague to nominate you... but do it QUICKLY – the deadline for entering nominations is TOMORROW – Friday 9 May!!!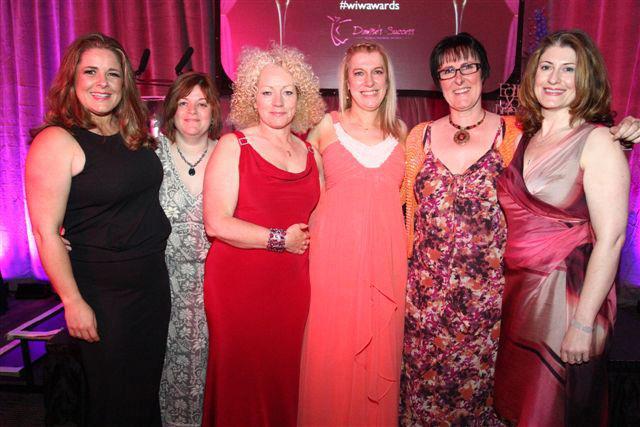 Winners & Nominees at last years glittering ceremony
Here are the 9 categories you can nominate for:
Coach/Mentor
Trainer/Speaker
Overcoming Adversity
Women's Role Model/Advocate
Shining Online
Woman to Watch/Rising Star
Author/Blogger
Woman in the Community
Business Growth
To add YOUR nominations for yourself / other fabulous women you know, and to find out more about this inspirational event - held on 8 June in Birmingham, please follow this link...
And nominate, nominate, NOMINATE - cos I know that women every where are worth it and that YOU are worth it most of all!!!
With love and laughter...
Sandie
Sandra Peachey
Director, Damsels in Success - Burton on Trent & Author of Peachey Letters