Let's Get Set for Summer by NOT walking up someone else's hill...
Posted on
I'm just back from a walking break in Devon and am currently in that post apocalyptic holiday phase where I am surrounded by piles of laundry and packing that has exploded from the suitcase all around the house and now demands to be sorted and returned to its' various rightful places …
Yesterday I was sitting looking at my very practical (wet and muddy) walking shoes (apparently the technical term for them is 'Sports Utility Footwear') any how, they are not particularly pretty and I was musing how different my feet then looked at the 'Women Inspiring Women Awards' (sponsored by Damsels in Success) last week (9 June), – now THOSE shoes are gorgeous, ivory coloured, high platformed, glamour wedges – I loved wearing them – they are definitely outside my shoe comfort zone!

My week in shoes … from muddy to glamorous …
Speaking of the 'Women Inspiring Women Awards' Did you know that two of our Burton members - Hayley Lloyd Wilkins and Clare Turner Marshall were nominated for Awards? And that our local Award Winners - Hayley for Burton and Claire Nelson for Glasgow, also went forward for the National Member prize - The Most Inspiring Damsel in Success?? Well I'm sure you know by now that Hayley not only won the Award for 'One to Watch', but also for the 'Most Inspiring' too - what a WOW for all of us!! I for one am incredibly proud and really can't wait to see what else is in store for Hayley and for ALL of us - can you??
The Awards Ceremony was a fabulous evening, for so many reasons ... celebrating, meeting forum faces in the flesh, laughing and dancing - if you haven't already - do check out my pics here and share in the fun ...

So that was the start of my summer, and true to form, as an English summer – it had sun and rain in almost equal measure. And on my holiday - towards the end of a very long walk in the wind and the rain, I had a choice … To follow the leader down a coastal path or to chose my own path to our home destination … Now I believe that when your intuition tells you something strongly, you follow it and MY intuition at that moment was giving me VERY specific guidance to walk my own path (and not the one chosen by the leader and most of the group).

With another believing companion in tow, I headed over a very blustery Exmoor, wondering along the way if I had done the right thing … After 20 minutes or so I realised that despite waterproofs, I was soaking wet and of course I really doubted my decision, but pushed on regardless – telling myself that it was only weather! After an hour I reached the home straight and RAN the last 100 yards to get home over 30 minutes before the rest of the group, who were wet, annoyed and puzzled as to how we had got there first. So yes – you know now that I am going to say that this is a lesson for life and of course it IS!

So where is YOUR summer taking you to? Is it leading you to worry about the Christmas weight you gained, to wonder about the state of your skin and summer style ..? Well at Damsels in Success, Summer is most definitely a state of mind and at our events this month we will be addressing both the inner and outer game – getting you set for a fabulous summer – where you will dare to bare your skin AND your soul! We've got some fabulous contributors who are going to help us ALL 'Get Set for Summer' in true Damsels in Success style – join my event and see me in action in Glasgow on the 26 June.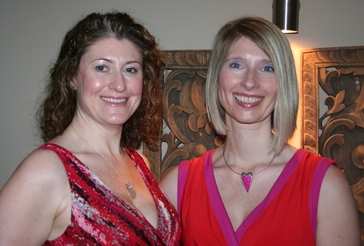 2 of our Get Set for Summer Contributors are Hayley Lloyd Wilkins & Lyn Bromley - our Skin and Style experts
With Summer flying by, June will soon melt into July and then it is time for my next Sales Bootcamp on 10th July at the Mallory Court Hotel (near Leamington Spa). Due to popular demand, both myself and business partner Laura Morris of Educate Business will show you how not to sell, but instead how to encourage your customers to buy. It's a whole different ethos that will show you how to play to your own unique strengths – the very things that make your business stand out.
Using the psychology of psychometric profiling, you will get a detailed report of your own unique selling style and we will then show you how to play not just to your strengths – but your market place too, in order to radicalise and maximise your 'buyability'. Not only that, but you will then receive in-depth knowledge and skills with our proven tips, tricks and techniques designed to easily create and then close a sale. Delegates are restricted to a maximum of 6 and the price of £199.00 includes your psychometric report, lunch and refreshments. Check out the details here.
That's all your Peachey News and Views for now – here's wishing you a fabulous summer of love, laughter and sunshine.